The Moo Duk Kwan school was founded by Grand Master Hwang Kee in 1945 and teaches the traditional Korean martial art system of Soo Bahk Do. Soon after his death in July, 2002, his son, H.C. Hwang, became Kwan Jang Nim. The United States Soo Bahk Do Moo Duk Kwan was founded in 1975.
For more information about the Moo Duk Kwan school please visit The Karate Center web site.
Region 1 Schools
---
Cambridge, MA ~ Danvers, MA ~ Hamilton, MA ~ Danbury, CT ~ New Milford, CT ~ Norwalk, CT ~ Ridgefield, CT ~ Stratford, CT
---
Sa Bom James Harwood
The Karate Center
978-927-6671

---
Sa Bom Nim PJ Steyer
Boston Classical Soo Bahk Do
Cambridge YWCA
7 Temple Street
Cambridge, MA 02139
781-367-8060
Mailing address: 42 Lincoln Parkway #2, Somerville, MA 02143

---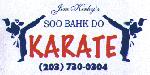 Jim Kirby's Soo Bahk Do Karate
Email to Mr. Brian Jones
Ridgefield's Parks & Recreation
195 Danbury Road
Ridgefield, CT 06877
203-730-0304

Mailing address:
Jim Kirby's Soo Bahk Do Karate
P.O. Box 2245
Danbury, CT 06813

---
Sa Bom Eui-Sun Choi
Sa Bom Nim Frank Tsai
Han Dol Martial Arts
72 Newtown Rd
Danbury, CT
203-797-9756

Korean Martial Arts Academy
41-B Main St.
New Milford, CT 06776
203-797-9756

---
Sa Bom Catharine Minichino
Connecticut Moo Duk Kwan & Fitness
Sterling House Community Center
2283 Main Street Stratford, CT 06615

Mailing address:
62 A Engine House Road
Stratford, CT 06614

---
Norwalk Soo Bahk Do
370 West Avenue
Norwalk, CT 06850
(Norwalk YMCA)

Mailing address:
Diane Granata
27 Noahs Lane Ext.
Norwalk, CT 06851
203-846-0415

Email to Diane Granata
Instructors: Sa Bom Lou Rotelli, Diane Granata, John Pinto

---
Mr. Roberto Z. Olmedo
<! a href="http://www.olmedokarate.com" Olmedo Soo Bahk Do Karate /a br> 15 River Road, Suite 211
Wilton, CT 06897
203-209-4364

Email to Roberto Z. Olmedo

---
All images and contents of this page are protected by copyrights held by The Karate Center, Bay State Soo Bahk Do and The U.S. Soo Bahk Do Moo Duk Kwan Federation Inc. No usage except as permitted by the Federation is allowed.
Relevant links: